Introduction of the FITS System
Thermoformable low weight FITS sandwich panel

Fast and low cost application technology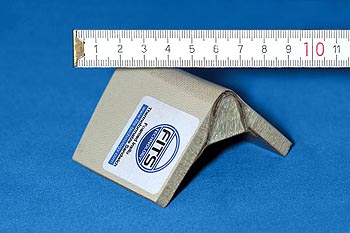 Sandwich constructions are considered the materials of choice for use in all kinds of transport applications in which weight reduction is an essential consideration. Existing sandwich panels fulfill almost all the requirements with flat panels having very low weight but they suffer difficulties with economic shaping and forming to end part level. FITS Technology developed at the Technological University at Delft a revolutionary thermoplastic sandwich panel, FITS, which is based upon PEI thermoplastic (Polyetherimid) foam and PEI or other thermoplastic fiber reinforced thermoplastic facings.
In its unique manufacturing process, FITS Technology produces an an-isotropic foam core and the bonding to the fibre reinforced facings all in just one step, because of this, FITS has no adhesive layer and a vertical oriented foam core, with high compression strength and modulus. This gives FITS a unique combination of high stiffness and strength, enhanced damage tolerance, very low flammability AND the panels are thermo-formable and recyclable.
Typically in Thermoset Nomex Honeycomb constructions 25% of the panel weight is added to the part weight through the application of potting compound, fillers, paint, a decorative layer, connections, etc.
By contrast, with FITS thermoplastic sandwich panels, only 5% weight is added at part level, due to this thermo-formability.
Part manufacturing technologies such as edge finishing, folding, welding of inserts and so on; have become much simpler, more efficient and more versatile due to automatic manufacturing instead of extensive hand labor as is common in Nomex thermoset panels. This simplicity and versatility can revolutionize the part manufacturing process in the aerospace, ship building and rail industries and will bring these sectors benefits such as:
Lower part weight
Lower part costs
Enhanced design possibilities
Recycable at part level
FITS thermoplastic sandwich panels from engineering plastics are under development.
Patent applications for batch and continuous manufactoring of FITS thermoplastic sandwich panels based on PP and other engineering thermoplastics are filed.
Patent portfolio
The FITS System is protected with 12 worldwide patents
(10 granted and2 pending)